Dental Office Near Me | Edge Dental
Edge Dental is a state-of-the-art dental clinic specializing in the LANAP laser gum disease treatment. You can find our dental office at Memorial City in Houston, TX.
INSTANTLY BOOK ONLINE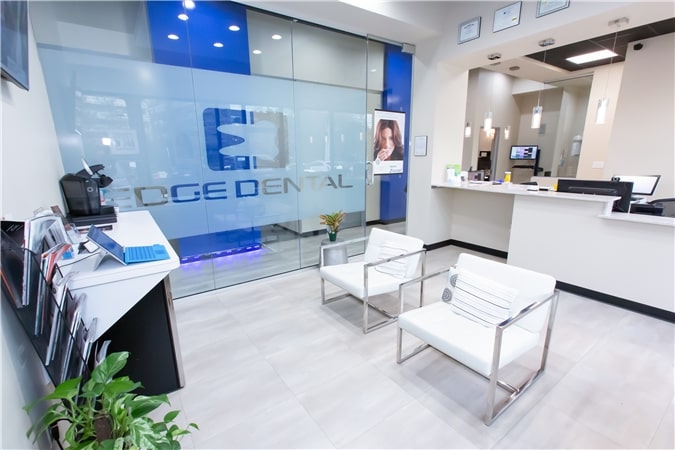 Edge Dental is a state-of-the-art dental clinic specializing in the latest cutting-edge dental treatments at Memorial City, Houston. We specialize in the LANAP procedure for gum disease and periodontitis, which allows us to address the root cause of your gum disease using laser energy. Our no-incision, no-sutures, no-pain approach ensures safe, consistent, and optimal results with minimal downtime.
Our emergency dental clinic also provides numerous in-house financing options to ensure your treatment is accessible. We believe all medically necessary procedures should be financially accessible, and laser gum treatment certainly qualifies because periodontitis can cause numerous health complications. If you have the signs and symptoms of gum disease, please schedule a consultation with a laser dentist near me in Houston, TX.
Let us help you take control of your periodontal disease.
Call us now.
Location: Memorial City, Houston
You can find Edge Dental at 15455 Memorial Dr #400, Houston, TX. This is one of the most accessible locations in Houston, a short drive from Greater Inwood, Hedwig Village, Montrose, Cullen Park, Jersey Village, Bellaire, and other neighboring towns. You can access the Google Map linked below for exact directions to our dental clinic, or you can contact our team for directions.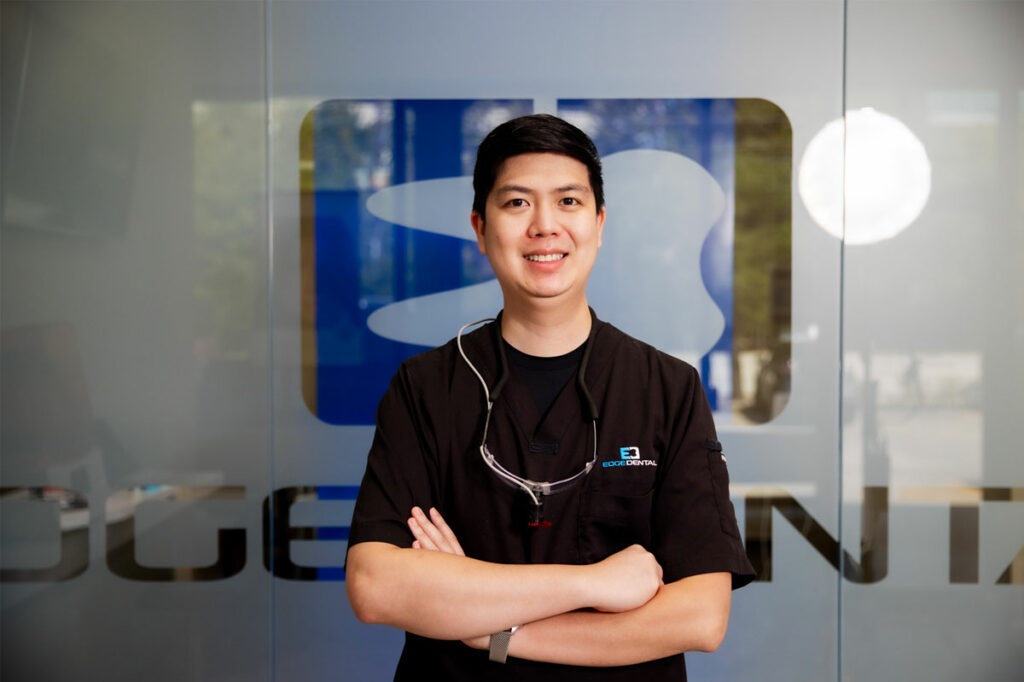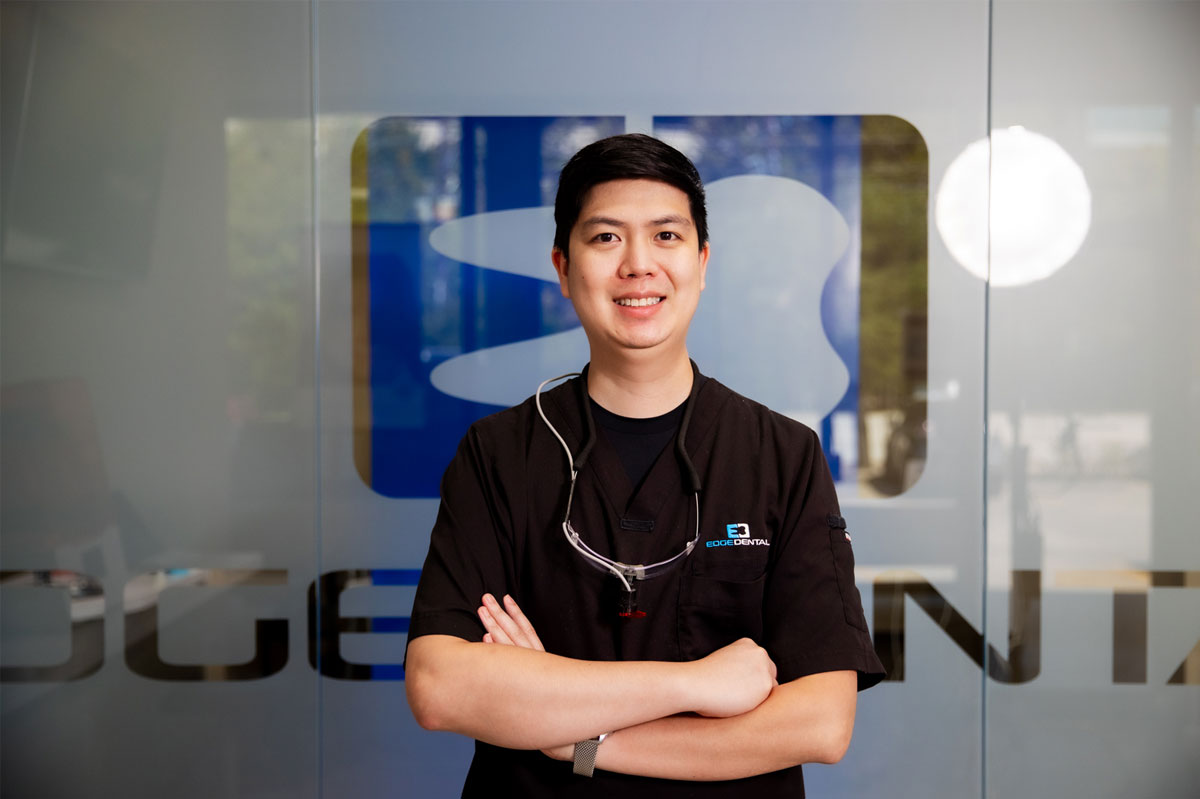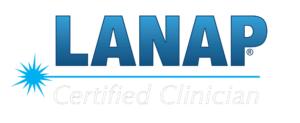 Our state-of-the-art dental clinic is led by Dr. Justin Lai, one of the leading LANAP-certified dental professionals in Houston. Dr. Lai is a native Houstonian, having graduated from J Frank Dobie High School and Rice University, where he studied Chemical Engineering. After acquiring his degree in engineering, he completed his Doctor of Dental Surgery degree from the University of Texas Health Science Center at San Antonio Dental School.
Dr. Lai is one of the few dental professionals certified in the cutting-edge LANAP laser gum treatment protocol. He attends numerous annual conferences and workshops to stay abreast of the latest developments in dental care, ensuring his patients receive the latest and safest treatments. Furthermore, he uses advanced diagnostic tools to identify and treat the root cause of your gum disease at the earliest stage possible.
Dr. Lai is affiliated with the following dental organizations:
Flexible Financing Options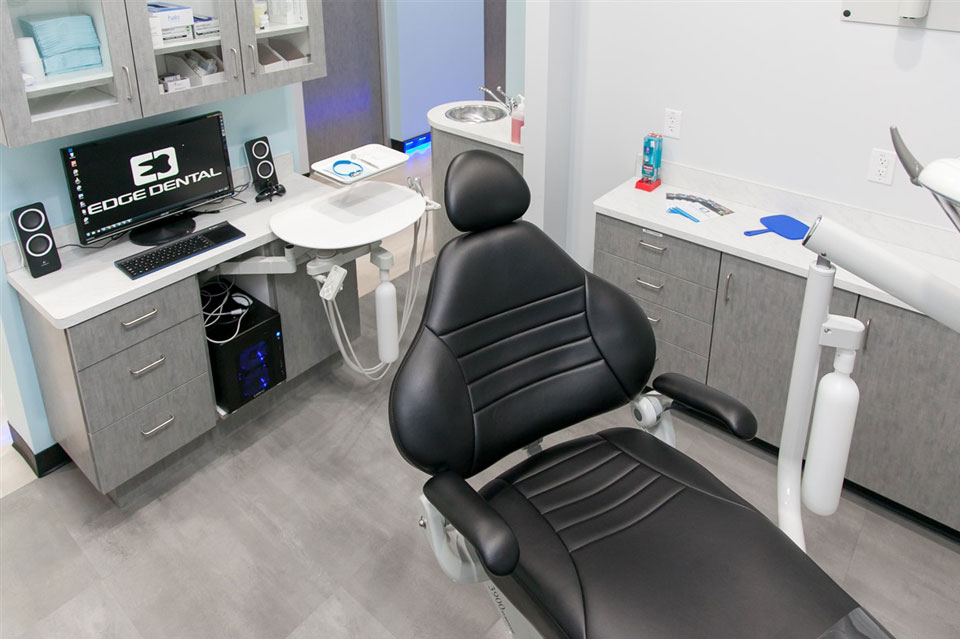 Flexible Financing Options
Edge Dental believes gingivectomy and laser gum surgery should be financially accessible to everyone because they're medically necessary procedures. If left untreated, gum disease can lead to advanced periodontitis, which, in turn, can increase the risk of tooth loss, bone loss, heart problems, strokes, respiratory ailments, diabetes, and pregnancy complications.
Besides accepting all major PPO dental plans, we also provide complimentary insurance verification. If you have dental insurance, please contact us for free insurance verification — our team will review the terms and conditions of your insurance coverage, contact your providers, and help maximize your coverage. We also curate a comprehensive overview of your treatment cost before the procedure, so you'll know what you'll owe.
We also offer flexible payment plans and financing options. We can help with CareCredit applications, and we also provide in-house savings plans and in-house payment plans. Please contact our dental clinic to explore your financing options.
Do you have gum disease? Don't let it get worse. Book now.
No-Incision LANAP Gum Treatment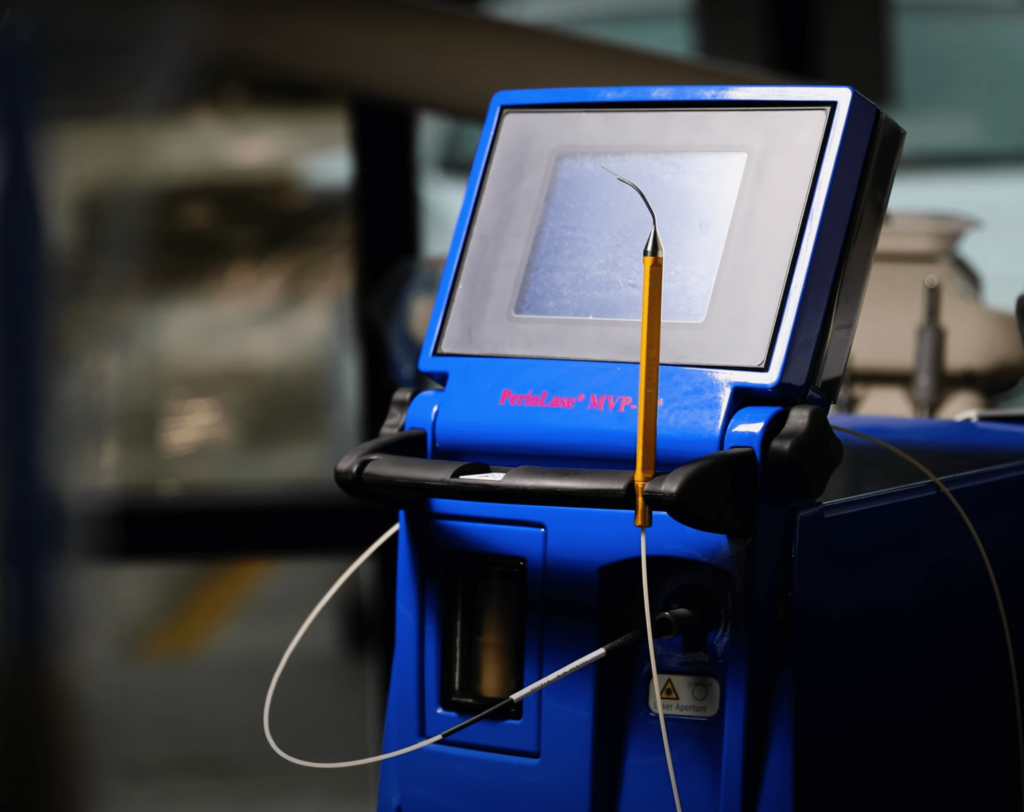 Edge Dental provides a no-incision gum treatment, known as the LANAP procedure. This is an FDA-cleared laser treatment for gingivitis and periodontitis, performed using the cutting-edge PerioLase MVP-7 device. During the LANAP procedure, the dentist channels highly calibrated pulses of laser energy to vaporize diseased and infected gum tissues, break down accumulated plaque and tartar, and disinfect the periodontal pockets. The procedure doesn't involve any cuts, incisions, or sutures, so you can recover quickly and resume most of your daily activities within 24 hours.
Benefits of the LANAP Surgery: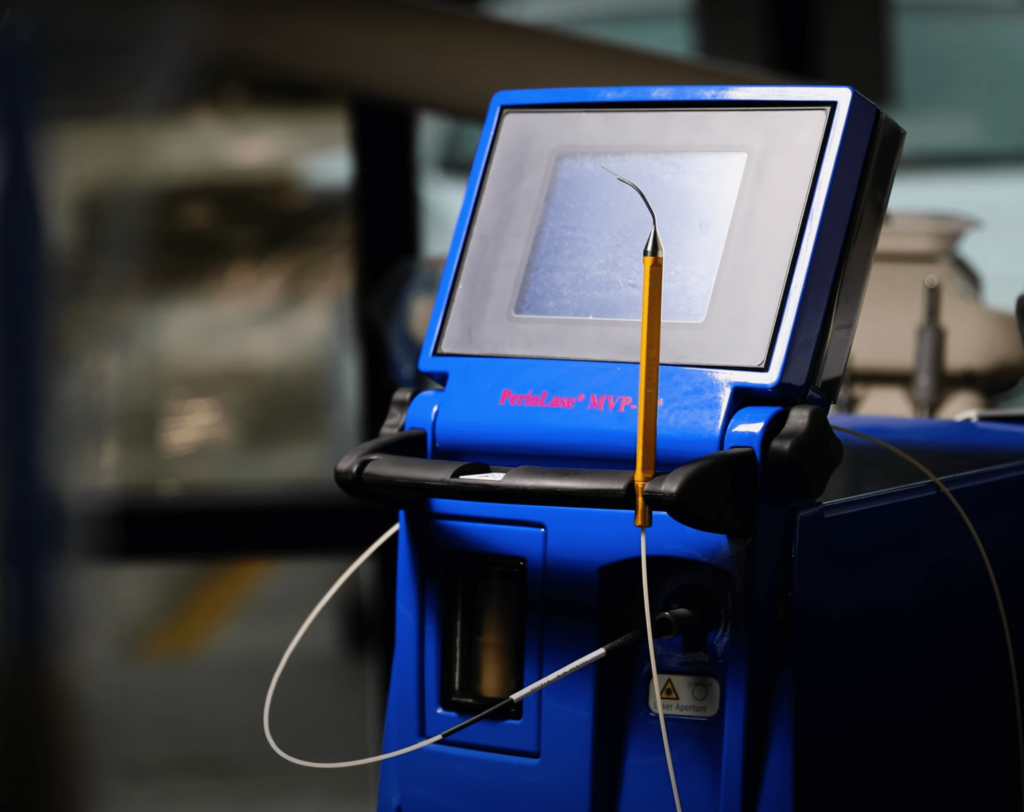 Gum surgery with zero cutting or sutures. Ask us about our LANAP treatment. Book now.
Cutting-Edge Technologies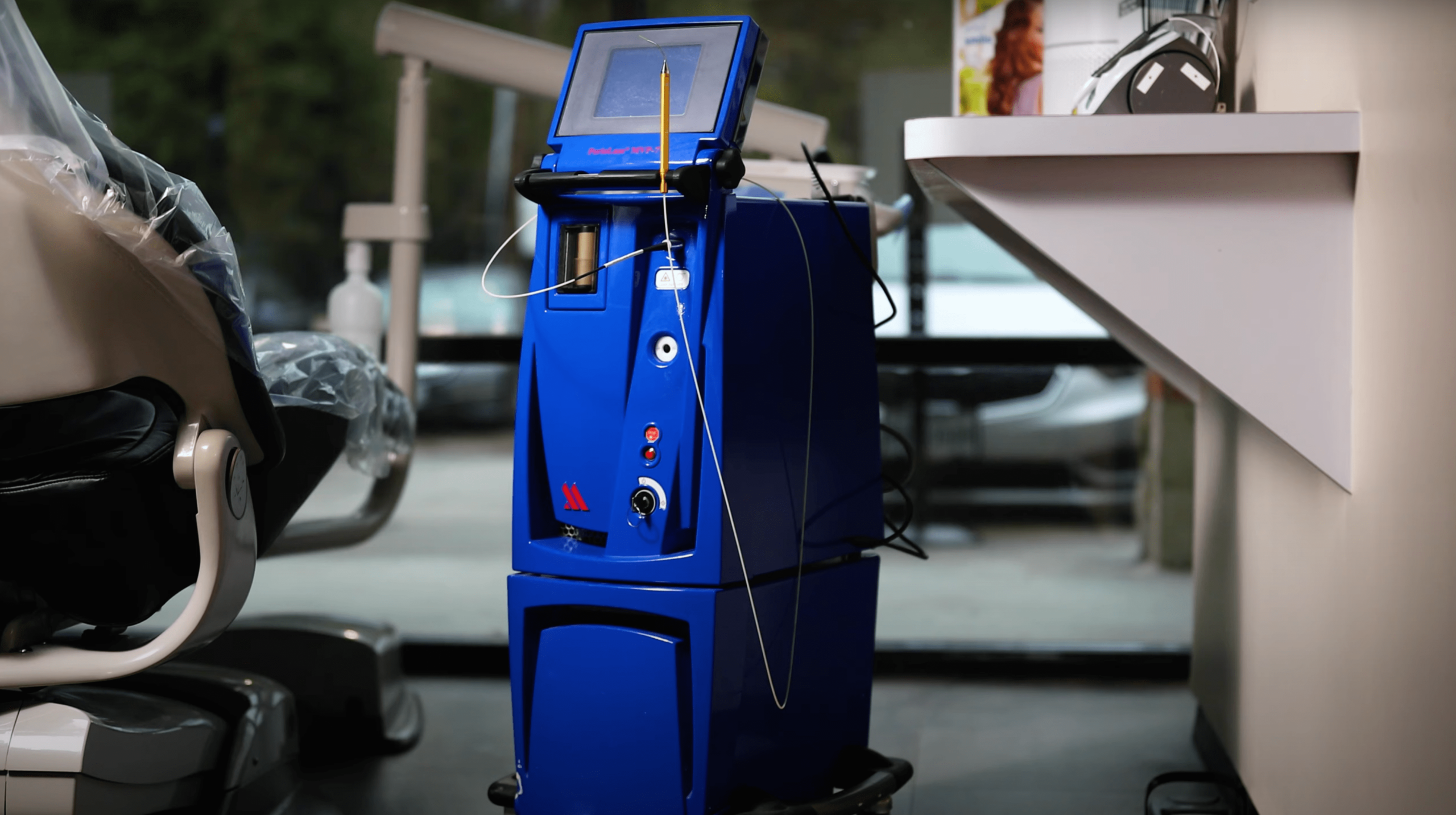 Cutting-Edge Technologies
The PerioLase MVP-7 is a cutting-edge, adjustable laser device used for numerous laser dental procedures. We use this device to perform the LANAP surgery, allowing us to treat gum disease and periodontitis without incisions, sutures, excessive bleeding, or extended downtime. The PerioLase MVP-7 device features 7 pulse durations, so it can be calibrated to remove the diseased gingival tissues and break up accumulated plaque and tartar without harming healthy gum tissues.
We use intraoral cameras to assess the condition of your gingival tissues and teeth. During traditional dental checkups, dentists use small handheld mirrors to examine the oral cavities, which provides limited visibility and diagnostic capabilities. However, the intraoral camera is a small, pen-like, fog-resistant device that can transmit visuals of your oral anatomy on a computer screen. This allows the dentist to identify the smallest and earliest traces of gum disease.
Our 3D imaging technologies allow us to diagnose gingivitis and periodontitis at the earliest stages possible. Traditional x-rays produce static, 2D images of your teeth, and multiple exposures are necessary to capture different angles. However, with 3D imaging technologies, we capture a 3D image of your teeth from multiple angles with one exposure. The results can be accessed on a computer and shared digitally, making them far more effective for diagnosis and treatment planning.
Edge Dental is an extremely accessible, conveniently-located, and advanced dental clinic in Houston, TX. Our emergency dental clinic is led by a LANAP-certified dentist specializing in the latest dental treatments and methodologies. We always assess the root cause of your concerns using advanced technologies, review your medical history, and curate personalized treatment plans just for you. Please schedule an appointment to explore your laser gum treatment options at Memorial City in Houston, TX.