Laser Gum Therapy | Edge Dental
Laser gum therapy is the most effective means of treating gum disease and periodontitis. Edge Dental performs laser gum treatment using the cutting-edge LANAP procedure in Memorial City, Houston.
INSTANTLY BOOK ONLINE
Laser gum therapy, also known as periodontal laser treatment, is a procedure wherein laser energy is used to treat gum disease and periodontitis. The dentist uses a special laser device to release highly calibrated laser pulses that vaporize and remove the damaged/ infected gum tissues. Laser gum therapy also facilitates natural tissue regeneration, helping your body heal itself.
Edge Dental performs cutting-edge laser gum therapy using the LANAP protocol, which is more effective, painless, and convenient than traditional gum surgeries. Ask us about our minimally invasive laser gum therapy. Don't let your periodontal disease get worse. Book your appointment today. We offer in-house savings plan for your convenience.
Benefits of LANAP surgery:
LANAP is an FDA-cleared treatment for gum disease, and it allows you to resume your daily activities immediately — no extended downtime or recovery period.

Laser gum therapy is a nonsurgical procedure that allows for quicker recovery time! Book now.
What is the LANAP procedure?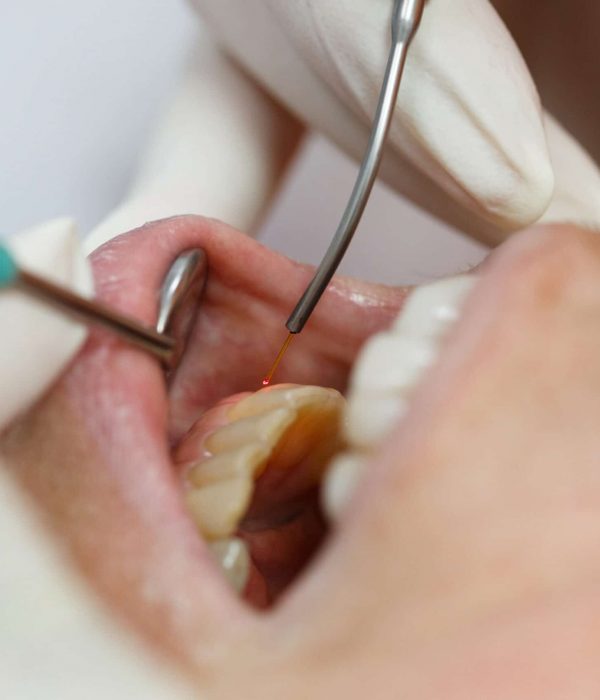 The LANAP procedure is the latest, safest, and more effective laser gum therapy. It's an FDA-cleared laser-assisted regeneration (LAR) technique that involves less pain and less recovery period than conventional gum surgeries. This procedure involves channeling highly-calibrated pulses of laser energy into the damaged gum tissues via the cutting-edge PerioLase MVP-7 device.
The laser energy targets the source of inflammation, vaporizes the infected gum tissues, and decreases the periodontal pockets, allowing you to recover from periodontitis without scalpels, incisions, and sutures. Since the LANAP surgery doesn't involve cuts or sutures, you can resume most of your daily activities and work within 24 hours.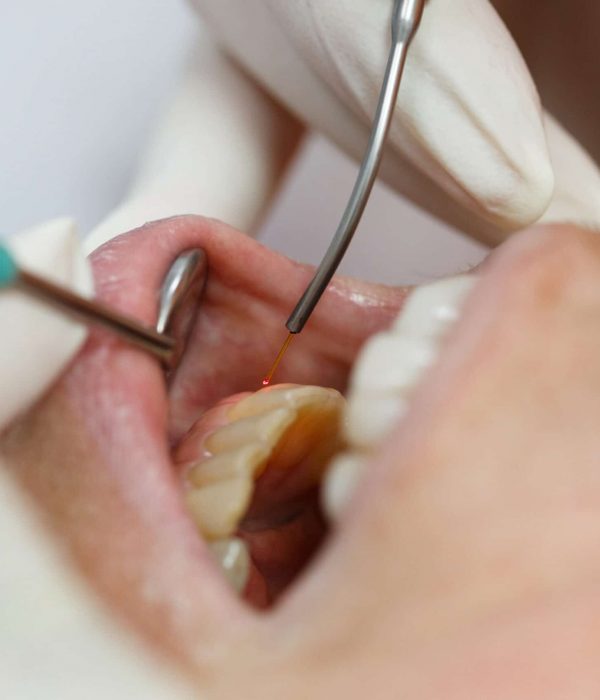 Are you suffering from gum disease? Laser gum therapy may be right for you. Book now.
How does laser gum surgery work?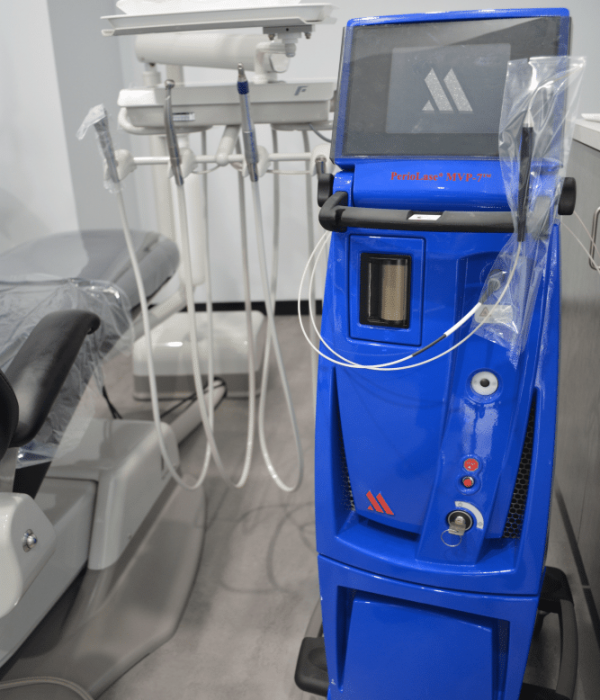 The LANAP procedure is based on cutting-edge physics and science. The variable wavelengths of laser energy from the PerioLase MVP-7 1064 Nd:YAG dental laser only target unhealthy gum tissues. The 1064 wavelength penetrates 4mm beyond the surface of the damaged tissues, killing all of the harmful bacteria. Furthermore, the laser energy also interacts with the hemoglobin to facilitate tissue regeneration, helping you heal naturally.
The following are the steps involves in LANAP surgery: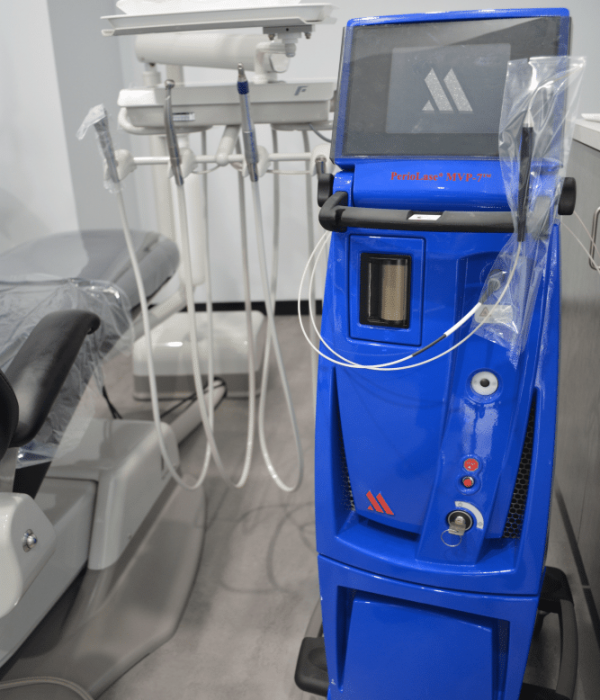 We offer a minimally invasive treatment for gum disease.
Book now.
Why is laser gum surgery necessary?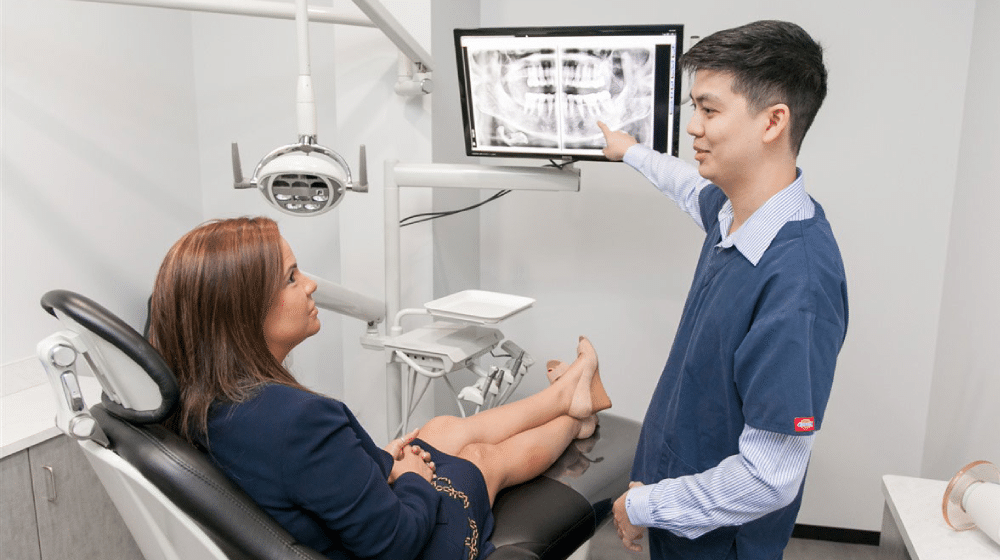 LANAP laser gum surgery is necessary because it treats gum disease and prevents periodontitis. Gum disease occurs when the accumulation of plaque and tartar leads to the expansion of periodontal pockets between your gums and teeth, leading to gum recession and loosening teeth. The plaque and tartar also lead to bacterial infections on the gum tissues. Your body reacts to the infection by inducing an inflammatory response, which leads to gum sensitivity and bleeding. If left untreated, bacterial infection eventually leads to dental abscesses, bone loss, and the loss of teeth. As such, LANAP surgery restores optimal oral health and prevents worse complications from occurring.
What happens after the LANAP surgery?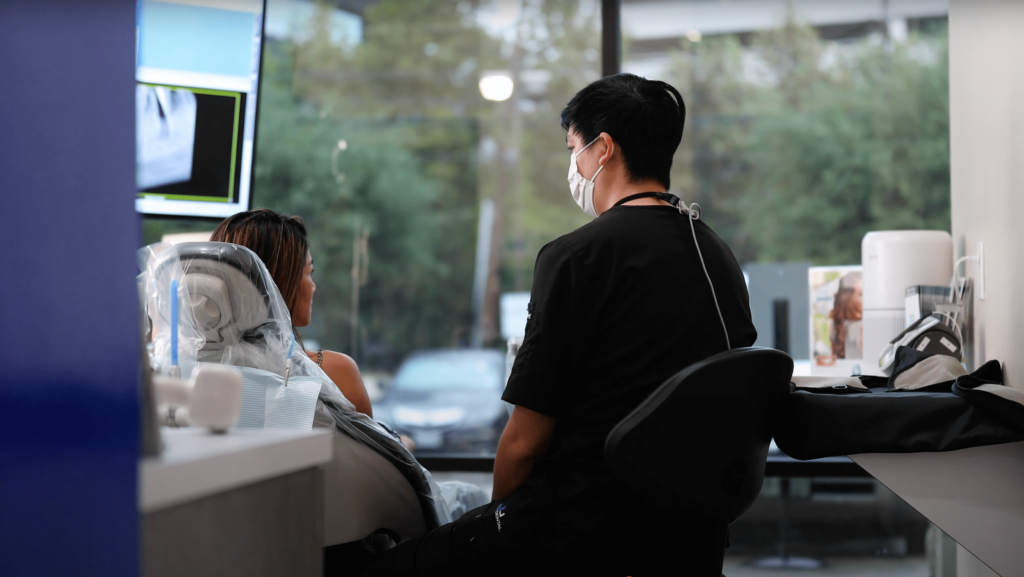 Your gums will be sore for a few days after the LANAP surgery. You can minimize discomfort with over-the-counter pain medications, such as Ibuprofen. Since the LANAP procedure is minimally invasive and does not require cutting or suturing, recovery will be much faster than traditional gum surgery. Your dentist will recommend a liquid/soft diet for at least two weeks to facilitate optimal healing, and you may need to avoid brushing and flossing for a week. Your bone tissues will gradually regenerate over the next 1 to 3 years — you'll need regular follow-up sessions in this period. Call us today and ask about our laser dentistry option.
I love Dr. Lai and crew, they are skilled and oh so awesome! I love coming to the dentist now, no thoughts or worries of discomfort. I am so close to obtaining a smile I can be proud of and Dr. Lai has been so patient, guiding me along the way. Please come see Dr. Lai!
Great dental office! Everyone there was very professional and nice. The office itself is clean and all equipment used seemed new and up to date. Was very impressed during my regular cleaning and probably the first time I've NEVER experienced any type of pain. This will definitely be the only dental office I use in the Houston area!
The dental facility is equipped with state of the art with incredible dental technology (in my opinion), and Dr. Lai has been gentle and wonderful during all of my procedures and he is by far my favorite dentist in all of Houston! I HIGHLY recommend Dr. Lai and Edge Dental!
The best dentist and amazing staff. Picked them since I moved to Houston. Best decision! My kid enjoyed the visit as well.
I enjoyed my first visit with Dr. Lai and his team of dental professionals. The visit went well and work was done quickly and painlessly. Thanks for a solid first appointment!
I was 100% satisfied. I will highly recommend to my family, friends, coworkers and any others in need of dental services.
I've definitely found my new dentist!!! Everyone was so nice and made sure I knew exactly what was going on during my entire visit!! They make you feel like family.
Great dentist. Fast and efficient. Very clean and everything seems so new and modern. Plus a good location for me. My husband and I both go here. We recommend!
Great customer service and care/treatment is awesome. Dr. Justin is very knowledgeable and has a great bedside manner. All the staff members are awesome and sweet.
LANAP surgery vs. traditional gum surgery
Traditional gum surgery or gingivectomy is performed using scalpels and other handheld instruments. The surgeon cuts the gum tissues and scrapes the tartar off the roots of your teeth, following which they use drills to reshape the bone tissues. After the surgery, the gums are sutured, and bone grafts might be used to facilitate bone regeneration. The procedure is highly invasive, complicated, and painful, with a relatively high risk of post-treatment infections.
LANAP surgery, in comparison, is performed using laser energy. The surgeon channels laser energy into the gum tissues to vaporize the diseased gums, plaque, and tartar, without harming the healthy gum tissues. As such, there's no bleeding or harsh side effects. After the procedure, you may experience some discomfort and swelling, but you can resume most of your daily activities within 24 hours, whereas traditional gum surgery involves a downtime of 1 to 2 weeks.
Do you need gum surgery?
Laser gum therapy allows for treatment without the need for stitches. Book now.
Edge Dental is a state-of-the-art dental clinic equipped with the latest dental technologies, such as 3D x-rays, intraoral scanners, and PerioLase MVP-7. We use cutting-edge technologies and the latest dental techniques to address the root cause of your inflammation and gum infections. The results are safe, consistent, and involve minimal downtime, allowing you to resume your daily activities immediately. Our dental clinic is located at Memorial City in Houston, TX. Please schedule an appointment with your laser dentist near me today.